By Suman Bhattacharjea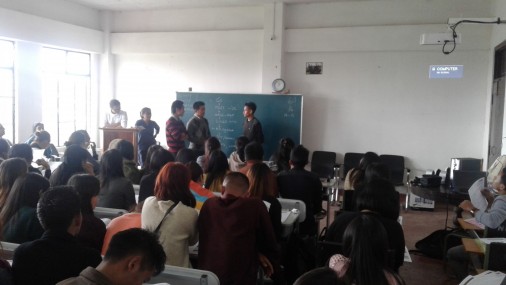 In a crowded classroom in Kohima, Nagaland, close to 70 young people are listening intently as ASER Centre trainers walk them through the 2017 'Beyond Basics' procedures. About 20 are PhD scholars and the rest are Masters level students in the Department of Education, Nagaland University. Since the training is in English, I'm able to follow and even contribute to this 4-day training workshop.
A few days later and less than 200km away, another group of about 60 young people pack into a different classroom in Bishnupur, Manipur. They are B.A. students at Chanambam Ibomcha college – C.I. College for short – about a 45 minute drive from Imphal. This time the training is mostly in Manipuri, but although I don't understand the content, I can see that the students are paying close attention.
Because the ASER 2017 'Beyond Basics' survey is being done in just 29 rural districts, this year we have far fewer partner organizations than the usual 500+. All of them are colleges and universities. But the 'colleges and universities' label hides enormous diversity. They include large central universities and small district colleges, government teacher training institutions and well known private universities – all very different from each other with respect to infrastructure, resources, and student characteristics.
Both Nagaland University and C.I. College are brand new ASER partners, and their level of interest and engagement has been truly exceptional. In Nagaland, the inaugural session of the training workshop was attended by the University's Pro Vice Chancellor, Prof Ramesh Gupta; by the Head of Department of Education, Prof Lungsang Zeliang; as well as by several other faculty members (see a writeup in the Nagaland press here). And while the students were working hard to master the ASER Beyond Basics process during the workshop, their teachers were equally busy figuring out logistics, helping to get permissions from the Village Chairperson of sampled villages, and generally making sure that the training and survey process went off smoothly.
In Manipur, the driving force behind this new partnership is Dr Khangjrakpam Ibohanbi Singh, Head of the Department of Education at C.I. College. On the dashboard of his car, Dr Singh has a photo of himself receiving the National Teacher Award in 2007 from India's then President Pratibha Patil. It is easy to see how he earned this recognition. His interest in and dedication to ensuring learning opportunities for his students is truly amazing. Dr Singh accompanied every step of this outstandingly organized training workshop, including participating in both field pilots, and willingly took care of every request from our training team. In a college which has a faculty of just two people to teach the entire B.A. curriculum, this is not an easy task.
Not surprisingly, the enthusiasm of these faculty members is reflected in their students. In both institutions, teachers stressed the importance of getting firsthand field experience and of contributing to an important national effort. In both classrooms, the students responded with interest and energy. In Nagaland, they gave up their Sports Week activities to tramp around Kohima village finding students to practice testing on. In Manipur, they showed up for training at 8 am on a Sunday morning – many of them having walked several kilometers to college, as they do every day. Far from the metro cities and the name-brand institutions, it is these young people – not very much older than the youth they are testing – whom we urgently need to invest in.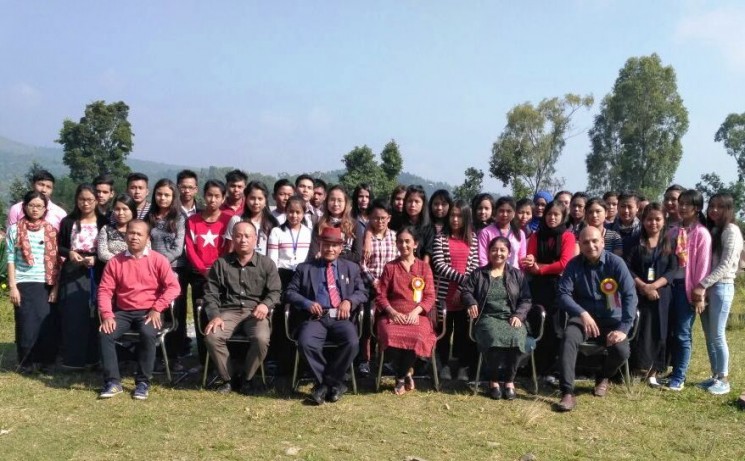 Dr Khangjrakpam Ibohanbi Singh, Head of the Department of Education at C.I. College (seated, with tie and hat), with ASER trainers and volunteers